Explore Hunan's Fantastic Fall Foliage
[来源:湖南省政府英文网] 2020-11-19 09:58:59
As summer winds to a close and temperatures subside, Hunan is gearing up for the annual fall color spectacle. Fall is a welcome time of transition, when foliage slowly transitions from vibrant summer to yellow, gold, orange, red, among others. Check out the following Hunan destinations for beautiful autumn scenery.
Yuelu Mountain
Photo/Zhou Miaoxuan
Yuelu Mountain is one of the four places in China to see maple leaves. It is one of the best Hunan destinations for viewing autumn scenery. Leaf-watchers can experience unique and beautiful fall foliage displays at Aiwan Pavilion and on the mountain peak.
Admission: free
Opening hours: all day
Location: Denggao Road, Changsha
Hunan Forest Botanical Garden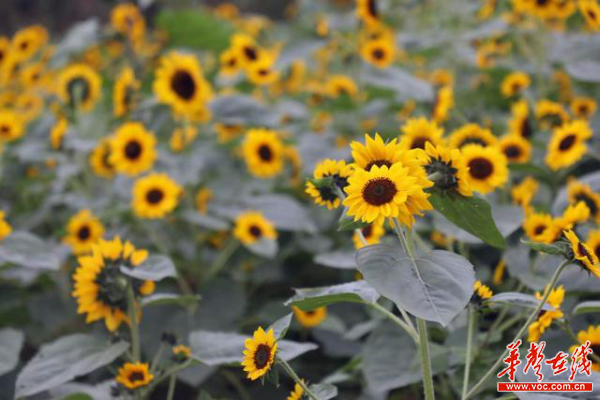 Photo by the Hunan Forest Botanical Garden
One must-visit site in the Hunan Forest Botanical Garden is its 25,000-sqm World Famous Flower Square. Recently a month-long flower show has been held there. The highlight is more than 150,000 sunflowers of 30 varieties. The lily flower show covering more than 1,000 sqm is Hunan's outdoor lily flower display, the first of this kind.
Admission: free
Opening hours: 8:00-20:30
Add.: No. 111, Zhiwuyuan Road, Yuhua District, Changsha
Gingko Village—Tongzi'ao Village, Yongzhou
Photo/Tong Di and Pan Fang
Tongzi'ao Village has a 10 km road lined with gingko trees. Every autumn the gingko leaves turn to a beautiful golden color, making the ancient and tranquil village romantic. There are more than 200 gingko trees, 90 of which are at least a century old. Leaves reach peak color in late
November. The best fall foliage can often be found in every trail.
Admission: free
Opening hours: all day
Location: at the foot of Yangming Mountain in Chalin Township, Shuangpai County, Yongzhou City
Yanling Five Colors Valley, Zhuzhou
Photo by Yanling County Photography Association
Five Colors Valley, at the foot of the Luoxiao Mountain range, has nearly 10,000-mu (about 667-ha.) of colorful forests. Such a large area is rare in southern China. When autumn comes, the valley is ablaze with hues of gold, red, green, orange, and yellow. The fall foliage is breathtaking.
Admission: free
Opening hours: all day
Notes: The valley is wild and untamed. Explore with professional guides and facilities. Wulingyuan, Zhangjiajie
Fall color sweeps across the Wulingyuan landscape in autumn. Gingko trees lining footpaths begin to turn yellow. Trees in the mountains gradually turn from green to red, yellow, or purple. Rolling peaks, colorful autumn leaves, and blue skies paint a picturesque autumn scene, attracting many Chinese and foreign tourists.
Admission (for reference): 225 yuan/person (from March to November); 115 yuan/person (from December to February)
Opening hours: 7:00-18:00
Location: Wulingyuan District, Zhangjiajie