Things you need to know about the world"s largest human migration
[来源:CGTN] 2020-01-20 11:13:34
转载自CGTN
The Spring Festival is China's most important holiday every year. With a population of over 1.4 billion, the country embraces the world's largest human migration, known as "Chunyun" in Chinese, as people set off for family reunions or vacationing during the holiday.
Chinese citizens enjoy a seven-day break for the Spring Festival, also known as Chinese New Year. But the traffic rush begins 15 days ahead of the holiday and lasts for 40 days. This year, it runs from January 10 to February 18.
So, there are some important things you may want to know about the 40-day rush, and CGTN is here to fill you in!
03:01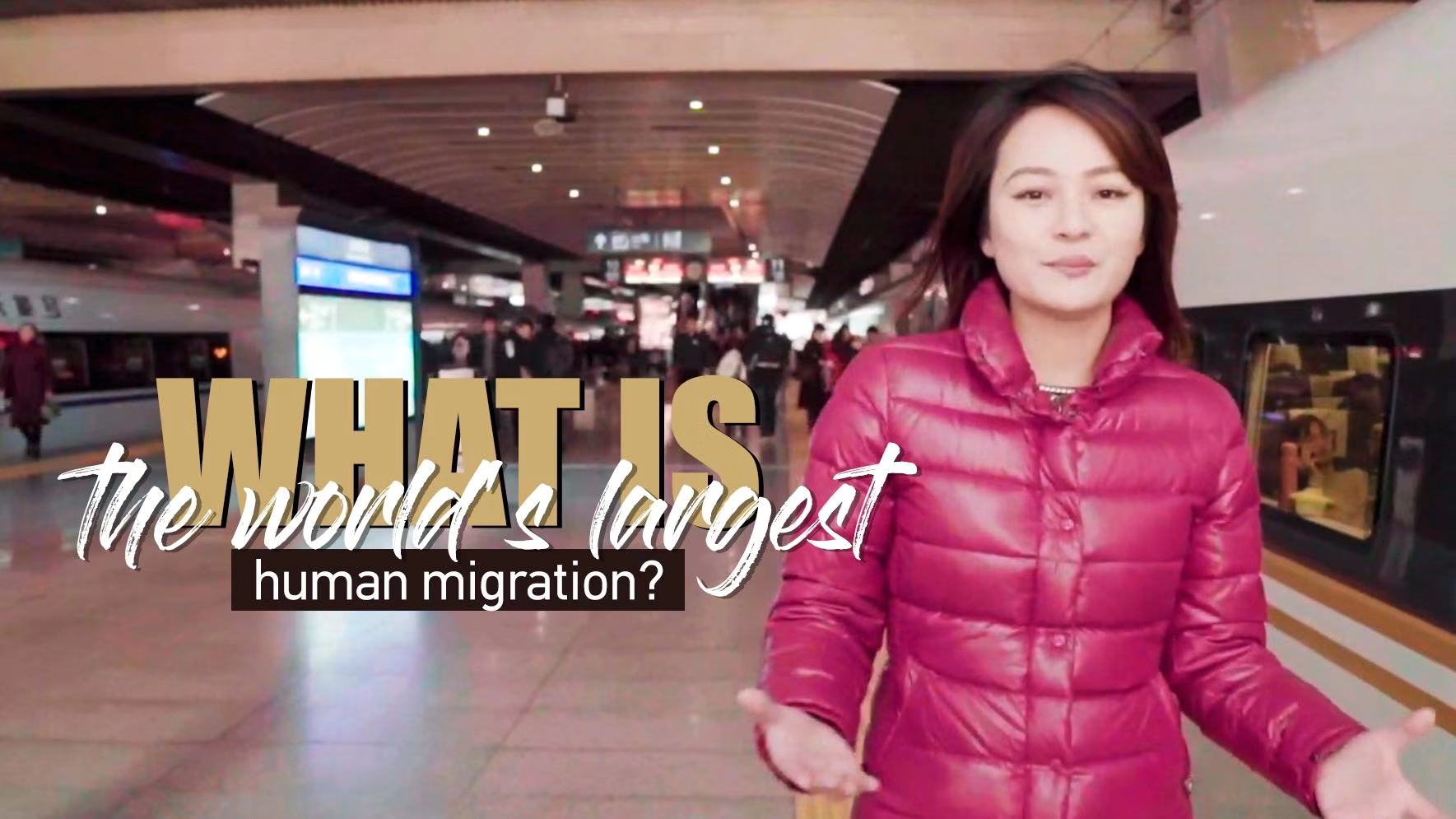 Why is there a rush at Spring Festival?
The importance of Spring Festival to Chinese people is like Christmas Eve to westerners. It is a cultural tradition for people to go back to their hometown and meet with their families during the Spring Festival. And Chinese New Year's Eve - which is January 24 this year - is the most crucial time for people to be together with their parents, children, siblings and relatives.
So no matter how far Chinese people go, no matter how hard they work through the whole year, they will try their best to get back to their family at least in Spring Festival for the family reunion. With everyone moving around at the same period, 1.4 billion Chinese people will make more than 3 billion trips via airplane, train, private vehicles such as cars and motorbikes, as well as boats during this year's Spring Festival, according to the National Development and Reform Commission.
The number of trips during the Spring Festival travel rush has expanded 30 times since 1979. That record broke 1 billion in 1994 for the first time, exceeded 2 billion in 2006, and reached over 3 billion in 2012.
Which modes of transportation are getting favored?
It is China's comprehensive transport system that supports the large scale of migration. Under tremendous transport pressure, the railway, highway and civil aviation systems have completed several rounds of upgrades in the past four decades.
Compared to the last couple of years, 3 billion trips are not a significant increase. However, railway and air trips have seen a dramatic climb in the past decade.
Nearly 440 million individual trips will be made by railway during this year's Spring Festival travel rush, an 8 percent increase from last year. Data also shows that, as of 2019, 139,000 kilometers of railway has been put into use nationwide in China, among which high-speed rail is almost 35,000 kilometers.
The civil aviation authorities say 79 million are expected to travel by plane, an 8.4 percent growth from last year.

Graphic by CGTN's Yin Yating
The reverse rush: a new family reunion trend at Spring Festival
The "reverse rush" is expected to increase during the 2020 Spring Festival travel rush, according to a report released by the China Academy of Transportation Sciences.
It describes a phenomenon where more parents travel from their hometowns to major cities to visit their children who work there.
Since the cost of travelling is down and the generations under one-child policy are gradually becoming the society's major working forces, the reverse rush maintained an average growth of 30 percent over the last two years, according to Alibaba's online travel service provider Fliggy.
Chinese transport authorities also have encouraged reverse travel with preferential policies, including discounted tickets for bullet trains to cities in the Yangtze River Delta area.
In addition to Beijing and Shanghai, cities including Chengdu, Hangzhou and Chongqing also became hot reverse rush destinations, according to the report, although most of them also bear large populations that "move out" during Spring Festival.
The increasing popularity of vacationing
More than 450 million people are expected to travel, and take trips, rather than return to their hometowns, according to Ctrip, China's leading online travel agency.
"Young people who come from smaller cities are showing a stronger willingness to travel. The number of travelers who were born in the 1990s and come from third-and fourth-tier cities such as Wuhu, Anhui Province, and Baoding, Hebei Province, surged more than 100 percent year-on-year," said Sun Jie, CEO of Trip.com Group.
Domestically, the Palace Museum in Beijing, Shanghai Disneyland and West Lake in east China's Zhejiang Province are expected to be the top three most crowded places.
Chinese tourists have also booked outbound trips to over 1,000 destinations in 102 countries and regions during the holiday on its platform, with over 60 percent of the outbound trips being family tours, said Ctrip.
Young Chinese account for the majority of outbound tourists, with Chinese aged under 40 forming more than 60 percent of the whole.
Reporter: Dong Xue
Video director & editor: Wu Chutian
Scriptwriters: Wang Tianyu, Dong Xue
Cameraman: Zhang Yi
Animation: Pan Yufei
Cover image designer: Du Chenxin
Executive producer: Ai Yan
Producer: Si Nan
Supervisor: Pang Xinhua